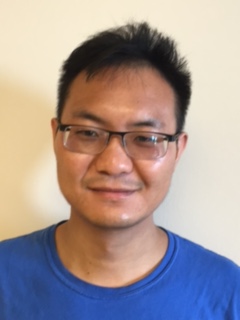 Assistant Professor
Leader, Group of Learning, Optimization, Vision, Healthcare, and X (GLOVEX)
Department of Computer Science & Engineering
Department of Neurosurgery
Department of Electrical and Computer Engineering (Affiliated)
UMN Data Science Initiative (DSI) (Affiliated)
UMN Data Science Program (Affiliated)
Institute for Health Informatics (IHI) (Affiliated)
Institute for Engineering in Medicine (IME) (Affiliated)
University of Minnesota, Twin Cities
Research Interests: Intersection and/or Union of machine learning, data sciences, and numerical optimization, computer vision, signal/image processing, and computational imaging, healthcare. See my [CV].
Openings: We plan to recruit a couple of PhD students for 2022 Fall. Prospective students please directly apply through our PhD application system and mention Prof. Sun among the potential advisors.
Group website: https://glovex.umn.edu/
Contact
Email: jusun@umn.edu \ \ sunjunus@gmail.com
Office: 6-213, Keller Hall
Phone: 612-301-2729
Webpage: http://sunju.org
Office Hour: 4 – 5pm Mon/Wed (2021 Fall)
Seminars of interest
What's new
Upcoming
Past
Paper release: Proud to release our paper Early Stopping for Deep Image Prior on arXiv! This is our early stopping method Ver 2.0 for single-instance deep generative priors. This version is as effective as our first method but is much more efficient! (Dec 13, 2021)
Paper release: Proud to release our paper NCVX: A User-Friendly and Scalable Package for Nonconvex Optimization in Machine Learning on arXiv! NCVX is the initial translation and revamping of the GRANSO package, with convenient features such as auto-differentiation and GPU support. In particular, NCVX can be used to solve constrained deep learning problems. (Nov 29, 2021)
Talk: in the session Theory and algorithms for nonlinear inverse problems at Asilomar 2021 (Virtual, Oct 31–Nov 03, 2021)
Paper release: Proud to release our paper Self-Validation: Early Stopping for Single-Instance Deep Generative Priors (accepted by BMVC 2021; see also the project webpage) on arXiv! We developed among the first reliable and general early stopping method for single-instance deep generative priors in solving inverse problems. (Oct 26 2021)
Talk: In the session The Interplay Between Optimization and Statistics at 2021 INFORMS Annual Meeting (Anaheim, Oct 24–27, 2021)
Talk: In CDSML Seminar Series, National University of Singapore. (Virtual, Oct 15, 2021)
Moving office: My office is moved to 6-213 Keller Hall. (Oct 01, 2021)
Media: Our real-world implementation of federated learning (with M Health Fairview, Indiana U. and Emory U.), and the initial development for COVID-19 AI model highlighted in Nvidia Clara white paper. (Sep 16, 2021)
Talk: in the Wilson Lecture Series (UMN ECE Colloquium) on deep learning for robust recognition, inverse problems, and healthcare. [Slides] (Sep 09, 2021)
Organization: Co-organizing the 2nd Workshop on Knowledge Guided Machine Learning (KGML) (Virtual, Aug 9–13, 2021)
Service: To be an Area chair for AISTATS 2022 (Jul 5, 2021)
Paper release: Proud to release our extended abstract Phase Retrieval using Single-Instance Deep Generative Prior that demonstrates single-instance deep generative priors (e.g., deep image priors) could be a powerful tool solving the most difficult cases of Fourier phase retrieval, a cental problem in computational imaging. (Jun 9, 2021)
Paper release: Proud to release our paper Rethink Transfer Learning in Medical Image Classification showing that transfer learning for medical image classification should probably be performed on truncated deep models, rather than full deep models conventionally used. (Jun 9, 2021)
Paper release: Proud to release our paper A Prospective Observational Study to Investigate Performance of a Chest X-ray Artificial Intelligence Diagnostic Support Tool Across 12 U.S. Hospitals that describes our year-long project on X-ray-based COVID-19 diagnostic system that has been 1) trained on extensive internal and public data, 2) carefully validated externally, and 3) deployed in real hospitals. See also the common pitfalls of the majority of AI models for COVID-19 here and here. AI is to complement and assist but not replace doctors, and close collaboration between AI experts and medical doctors is essential to building trustworthy AI models for healthcare. (Jun 05, 2021)
Grant approval: We are funded by a U of M Informatics Institute (UMII) seed grant to revamp the GRANSO package into a user-friendly, scalable numerical optimization package. (PI, May 25, 2021)
Grant approval: We are funded by CISCO to develop x-ray/CT-based AI systems for fracture detection in trauma care, in collaboration with the Medical School and M Health Fairview, and a number of pilot federated learning partners. (PI, May, 2021)
Media: Gaoxiang wrote an article for the Minnesota Undergraduate Research & Academic Journal (MURAJ) featuring Le and our COVID-19 project. (Mar, 2021)
Honors: 2021 AAAI New Faculty Highlights (Feb, 2021)
Media: An AI-based diagnostic system for COVID-19 based on chest x-rays developed by our group has been deployed and tested in M Health Fairview, and goes live in their decision-support system today! See this UMN, M Health Fairview, and Epic joint press release, CSE news article and this coverage by StarTribune. (Oct 01, 2020)
Talk: "运筹千里"纵横论坛 organized by Operation Research Society of China (Sep 27, 2020) [Slides]
Talk: IMA Data Science Seminar at UMN (Sep 08, 2020)
Talk: AIME2020: International Conference on Artificial Intelligence in Medicine (Hosted virtually by UMN, Aug 25–28, 2020) [Slides]
Grant approval: DOE: FAIR Framework for Physics‐Inspired Artificial Intelligence in High Energy Physics (Co-PI, Aug 10, 2020)
Grant approval: NSF 2038403: CPS: Medium: Smart Tracking Systems for Safe and Smooth Interactions Between Scooters and Road Vehicles, as covered by UMN CSE news (Co-PI, Aug 04, 2020)
Service: To be an Area chair for AISTATS 2021 (Jul 18, 2020)
Talk: SIAM Conference on Imaging Science Virtual Conference (Jul 6–17, 2020) [Slides]
Grant approval: OVPR COVID19 Rapid Response Grant # 10: Rapid detection and severity trajectory of COVID19 using X-ray images and artificial intelligence (May 01, 2020)
Talk: SIAM Conference on Mathematics of Data Science at Cincinnati, Ohio (postponed for the BEERvirus, 2020)
Paper release: our new paper Inverse Problems, Deep Learning, and Symmetry Breaking is on arXiv. We show how symmetries in nonlinear inverse problems can cause a significant difficulty for the end-to-end deep learning approach, and how to address it by breaking the symmetry (Mar 20, 2020).
Talk: Workshop on Numerical Algebra in High-Dimensional Data Analysis at Tianyuan Mathematical Center in Southeast China (TMSE), Xiamen, China (Dec 27–29, 2019)
Talk: INFORMS Annual Meeting 2019 at Seattle (Oct 20–23, 2019)
Join CS&E @ UMN as an assistant professor! (Jul 01, 2019)
Archive